Posted by Amy Otto on Apr 9th 2019
I grew up loving bread pudding. I have wonderful memories of family gatherings that my Grandma would host and always wanting to spend the night afterward. Not that I enjoyed helping with the clean-up. She would always give me a pair of her fancy pajamas to wear which was special. But the real reason I liked to spend the night after a big family gathering is that I always knew that the next day she would make bread pudding with the leftover bread. My favorite!
My husband and kids claim to hate bread pudding. My husband always calls it the "poor man's dessert". Really? Well, we had a party and had lots of bread left over so I made bread pudding the next morning. It smelled incredible! I pulled it out of the oven and went to yoga. Upon my return, I found more than half of the bread pudding gone. What in the world?? I had a feeling it wasn't the dogs because it was perfectly cut (however I am pretty sure Chloe, my standard poodle, could use a knife). My kids were away at school and I knew better than to think that they would come home at 8:30 on a Sunday morning.
My wonderful husband comes into the kitchen to let me know "That is the best French toast I have ever eaten!" He actually placed some in a container and hid it in the outside refrigerator for later WOW!!!! Ok, French Toast! Sure, let's re-brand my favorite dessert. Why not? Now, if I could only re-brand kale salad…….
Like your Grandma's Blueberry Bread Pudding…..French Toast with Emily G's Triple Berry Jam
5 large eggs
2 cups cream (you can use milk in a pinch)
1 cup sugar
3 teaspoons vanilla extract
2 cups fresh or frozen blueberries
1 loaf (1 pound or so) French bread, cut or tear into or any kind of left over white bread torn into pieces
½ stick or 4 tablespoons of butter cut into pieces
1 Jar of Emily G's Triple Berry Jam
In a large bowl beat eggs, cream, sugar and vanilla. Add bread to soak. Stir in about 1 cup of the blueberries. Pour into a greased casserole or baking dish. dot with pieces of butter and place 6 or so ½ teaspoon sized dollups of Emily G's Triple Berry Jam on top. Bake at 375 degrees for 45-50 minutes. Mix the remaining blueberries and remaining jam together in a small sauce pan or microwavable bowl and heat until blueberries pop. Serve warm compote over bread pudding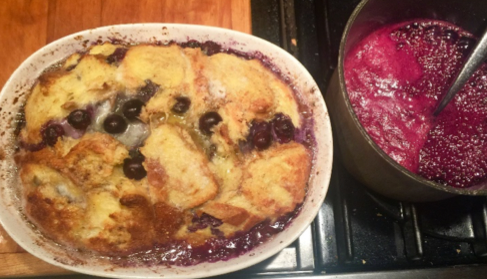 .