Posted by Lyndsey Pearson on Nov 8th 2017
So fall is definitely the season I look forward to the most and Thanksgiving is, hands down, my favorite holiday.
But sometimes you want turkey and all of those wonderful fall flavors without roasting a WHOLE bird. And I'm here to tell you, it is possible to make that happen. A few years ago, I had come up with what I thought was the perfect roast turkey breast recipe. It turns out it WASN'T perfect, but now that I've started glazing it with Emily G's Cranberry Port jam, I feel like it cannot get any better. (And, if you have left overs, it is great the next day on sourdough or sliced French bread with a little bit of mayonnaise and a handful of arugula.) Ready for your house to feel and smell like Thanksgiving? Here's the recipe …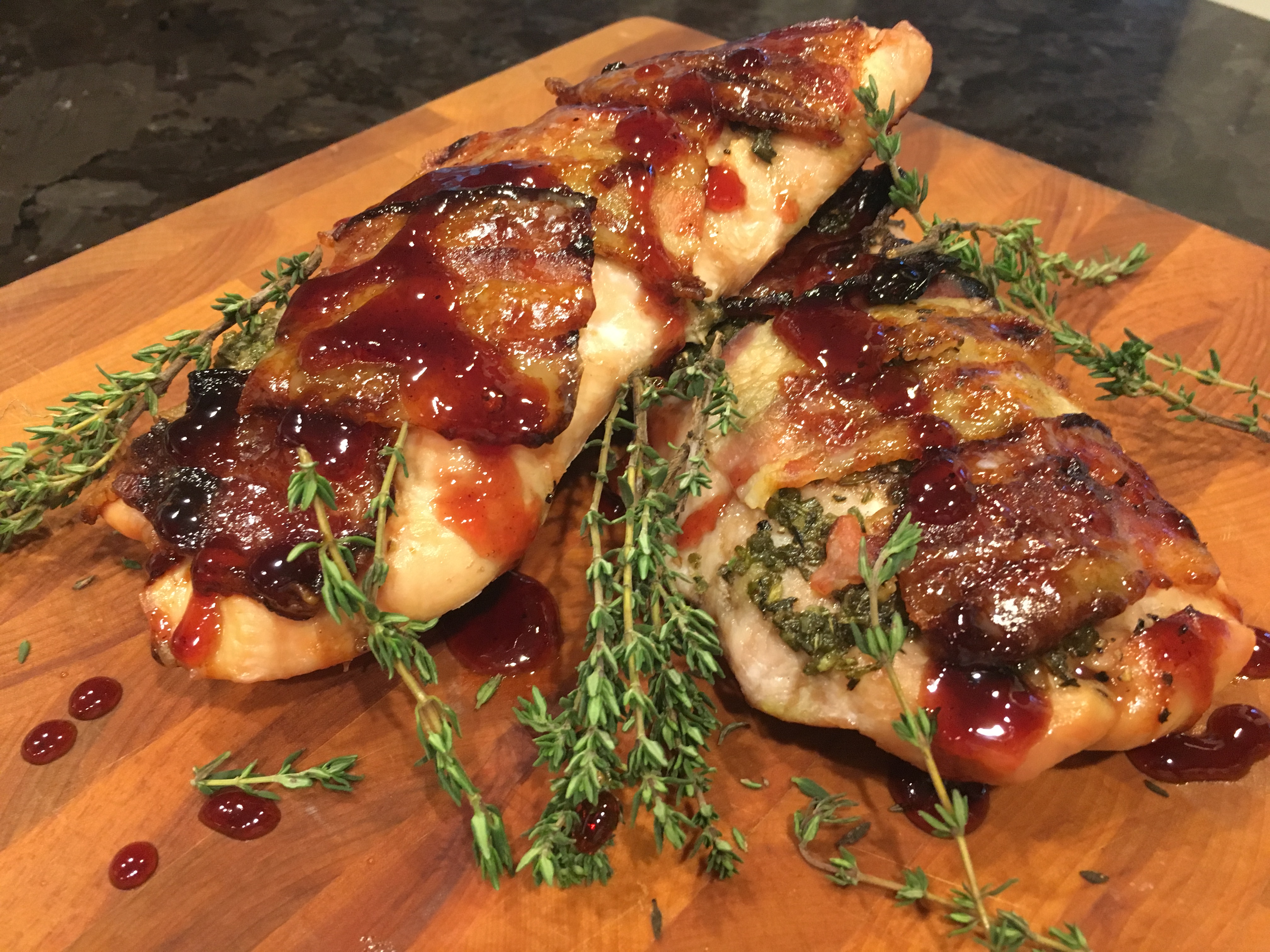 Herb-Rubbed Bacon-Wrapped Turkey Breast
With Emily G's Cranberry Port Jam
Ingredients:
2 turkey breasts (about 1 ½ lbs. each, 3 lbs. total)
salt & pepper
2 tsp. each of fresh rosemary, thyme, and sage, chopped (plus additional sprigs for garnish)
6-8 market-slab, thick-sliced strips of bacon
½ jar (5 oz.) Emily G's Cranberry Port jam
Directions:
(1)Preheat oven to 350 and place a wire rack on a rimmed baking sheet or roasting pan.

(2)Season turkey breasts all over with salt and pepper, then rub chopped herbs all over both turkey breasts.

(3)Wrap 3-4 strips of bacon around each breast, making sure the ends of the bacon are "seam side down" when you place the turkey breasts onto the rack in the pan.

(4)Place turkey in oven and set timer for 30 minutes.

(5)Meanwhile, place Emily G's Cranberry Port jam in a small saucepan and warm over medium-low, whisking frequently, just until melted. Turn off heat.

(6)Using a pastry brush, glaze bacon-wrapped turkey breast with melted jam (at 10 minutes into cooking and again 10 minutes after that.)

(7)Remove from oven when juices run clear and internal temp is at 140 degrees. (Usually about 30 minutes for 1 ½ lb breasts.) Remove from pan and let rest on a cutting board for 5 minutes.

(8)Thinly slice turkey breasts and place on a platter. Rewarm and pour any remaining Cranberry Port jam over top and garnish with sprigs of thyme and/or rosemary.
Serves 4-6
Oh, and another bonus … this recipe does not use the whole jar of jam! Wondering what to do with the remainder (besides eat it straight out of the jar)? Warm it on the stovetop on medium-low in a small saucepan, whisking frequently (as you did in the above recipe) just until melted. Put two teaspoons in a champagne flute and pour well-chilled Champagne (or bubbly of your choice) over the Cranberry Port syrup for a delicious and festive cocktail. Cheers! Fall is here!